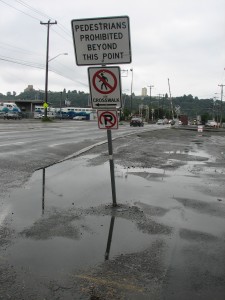 In a meeting June 22 with the industrial business community, Mayor Mike McGinn offered his view that he would probably not support construction of the Lander Street Overpass in north SODO, even if the city had the money to build it.
The comment was made in the give-and-take of a roundtable discussion covering a wide range of issues, and probably should not be taken as the Mayor's be-all, end-all position on the project.
But it helps illuminate one of the elephants in the room regarding the arena mitigation plan. Namely, there isn't one.
Some claim the proposal will trigger plans for related road, transit and pedestrian improvements and who knows? Maybe the plans will materialize. But funding is another matter, and as Mayor McGinn intimated Friday, the city has other needs in other places that will probably always be higher public priorities than fixing up things in SODO.
Exhibit A for this assertion is the Lander Street overpass itself.
The city has plans for the Lander Street overpass and they are even recognized in the city's capital plan. But construction costs are estimated at $180 million to $200 million and there is no – that's zero – money for the project. City voters approved start-up funding for the overpass several years ago as part of the Bridge the Gap ballot measure. But in 2008, the city used the Lander start-up funds instead to fund the two-way Mercer project in south Lake Union. Two-way Mercer will better connect Interstate 5 with the Seattle Center. Yep, that Seattle Center where the Supersonics played for decades before the team was yanked by the NBA and relocated to Oklahoma City.
Exhibit B for the lack of SODO infrastructure is provided in the picture above of pedestrian conditions along Holgate Street. It was taken during the summer rain storm last Friday that took place just hours before the Mayor's visit to SODO for the roundtable with industrial businesses.
Holgate will be a major route for pedestrians walking up to the new arena, especially for those riding the bus or taking light rail transit. NBA games take place after dark, mostly during the dead of winter when Seattle receives fairly high rates of precipitation. Some of this moisture occasionally freezes.
Given the dearth of drainage on Holgate, you might want to start figuring out how to get the arena concession for ice skates and swim flippers.
Then again, Holgate pedestrian conditions probably won't be much of a problem because hardly any pedestrians will use the route because there will also be no money for the much ballyhooed arena-related SODO transit and light rail services, either and existing transit services are poor, at best.